Graber Wood Blinds
Whether your home decor is traditional, contemporary, or electic, versatile Graber Traditions® Wood blinds can add warmth and beauty to your living spaces.
There is a warmth and elegance that is only communicated through the dramatic character of hardwood. The subtle shading, the gorgeous waves of a wood's grain, these qualities tell a story in color, texture, and richness that is unparalleled.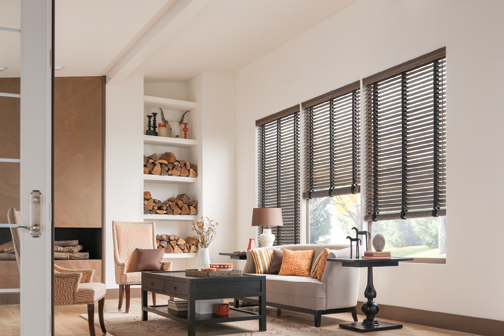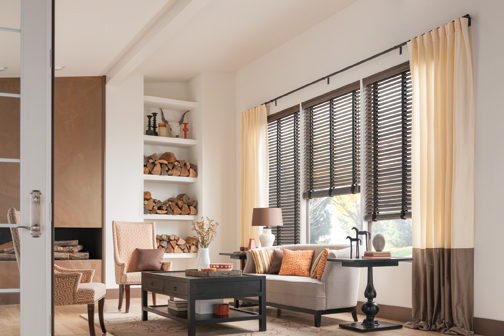 A Slat For Every Style

Custom crafted from the finest materials, Graber Wood Blinds are available in different slat sizes to showcase every design style.

1" Slat

—

Contemporary, narrow look for smaller windows or french doors.

2" Slat

—Classic look and spacing for ideal privacy and light control.



2 3/8" Slat

—

A wide, bolder look for a broader view of the outdoors.

2 1/2" Shutter Style Slat

—

An elegant look with extra-large, beveled slats for a superior view to the outside.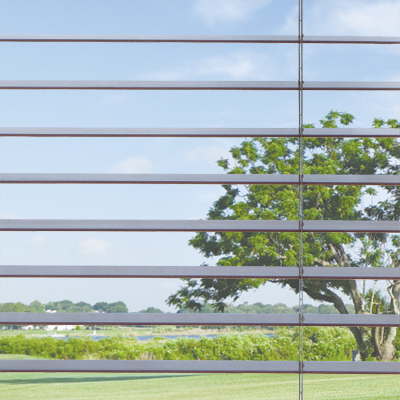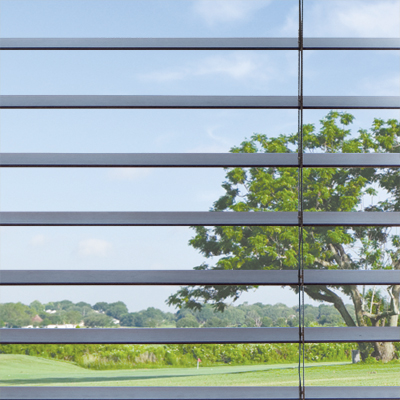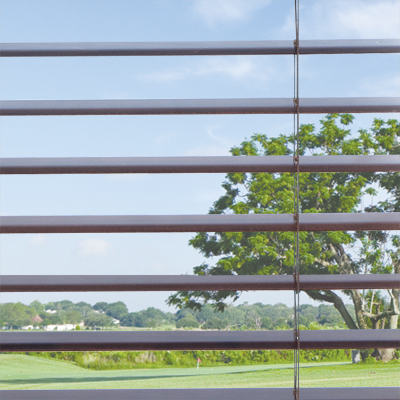 From Left to Right: 1" Slat, 2" Slat, 2 3/8" Slat, and 2 1/2" Slat
Express Your Style and Creativity
Give your wood blinds a finish that adds distinct character and texture while keeping up with the latest design trends.
Distressed

—

An aged effect, filled with character.
Barnwood

—

Designed for a rustic, weathered appearance.
Sandblast

—

Textured, highlighting the grain in relief.
Bamboo

—

Light and natural, an eco-friendly look.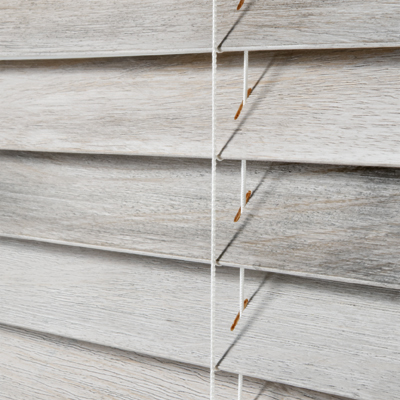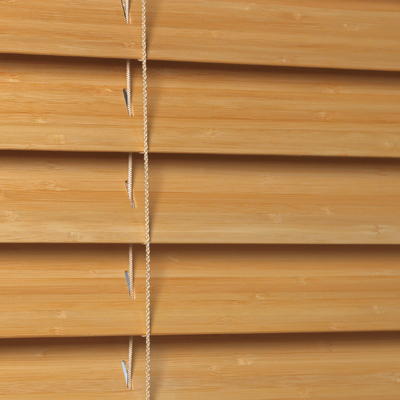 From Left to Right: Distressed, Barnwood, Sandblast, and Bamboo
Complement on a Grander Scale
Vertical wood blinds are a perfect "top to bottom" solution for wide windows, patio doors, and sliding glass doors. A unique design featuring multiple hinges on each louver ensures that they hang straight and true—without warping or twisting.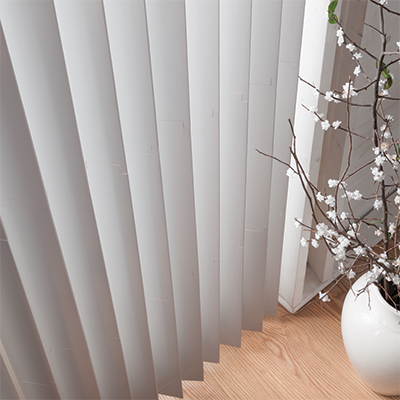 INTERESTED IN GRABER WOOD BLINDS?
Contact us for your free consultation!

For More Information Visit:

Save
Save
Save
Save
Save
Save
Save
Save
Save
Save
Save
Save
Save
Save
Save
Save
Save
Save
Save
Save
Save
Save
Save
Save
Save
Save
Save
Save
Save
Save
Save
Save
Save
Save
Save
Save
Save
Save
Save
Save
Save
Save
Save
Save
Save
Save
Save
Save
Save
Save
Save
Save
Save
Save
Save
Save
Save
Save
Save
Save
Save
Save
Save
Save
Save
Save
Save
Save
Save
Save